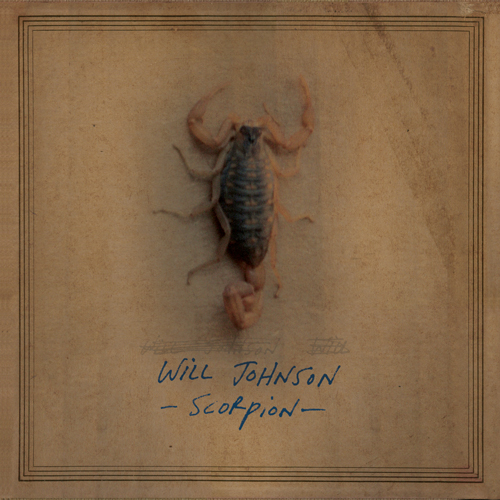 Will's first solo record in 8 years will be released on September 11.
Download the first song from the album: "You Will Be Here, Mine"
For this project, Johnson has decided to cut out the middleman and self-release the album direct to fans via Undertow Music/Thirty Tigers. Scorpion was recorded in the wooded outskirts of Denton, Texas, at the studio of longtime bandmate, producer and engineer Matt Pence. Also lending their skills to Scorpion are multi-instrumentalists Scott Danbom (Centro-matic, South San Gabriel, Sarah Jaffe), Howard Draper (Tre Orsi, Shearwater, Okkervil River) and Magnolia Electric Company's Mikey Kapinus.
Unlike Centro-matic's Candidate Waltz or Johnson's last solo album Vultures Await (both of which were written well in advance and recorded using carefully conceived arrangements), Scorpion documents the genesis and germination of its songs. "A lot of them," Johnson says, "Were written in the studio, right then and there, in the moment. I enjoy capturing those initial gut reactions in songwriting. It doesn't always work, but when it does—you capture the song in such a raw, unique form."
Johnson is hitting the road this fall in support of Scorpion, with his friend and New Multitudes collaborator, Anders Parker, playing a mix of traditional club shows and intimate acoustic living-room sets.
Tickets for Living Room Shows go on sale Saturday, July 28 @ 10am (central) / 11am (eastern)
Tickets for venue shows will be available from the venue websites.
THU Sept 13 – Mobile, AL @ IMC / Satori Coffee House
FRI Sept 14 – Waverly, AL @ Living Room Show
SAT Sept 15 – Birmingham, AL @ Living Room Show
SUN Sept 16 – Atlanta, GA @ Living Room Show
MON Sept 17 – Athens, GA @ Living Room Show
TUE Sept 18 – North Carolina area @ Living Room Show – TBA
WED Sept 19 – Baltimore, MD @ Living Room Show
FRI Sept 21 – Philadelphia @ Living Room Show
SAT Sept 22 – Brooklyn, NY @ Living Room Show – TBA
SUN Sept 23 – NYC @ Mercury Lounge
MON Sept 24 – Boston, MA @ Living Room Show
TUE Sept 25 – Montpelier VT @ Living Room Show
WED Sept 26 – Buffalo, NY @ Living Room Show
THU Sept 27 – Cleveland, OH @ Living Room Show
FRI Sept 28 – Chicago, IL @ Schuba's
Sat Sept 29 – Saint Louis @ Off Broadway
Tue Oct 2 – Dallas, TX @ Texas Theatre
Wed Oct 3 – Houston, TX @ Fitzgerald's
Thu Oct 4 – Austin, TX @ Cactus Cafe