NEW ALBUM!
Will Johnson's new album "Swan City Vampires" will be released worldwide on September 25. You can pre-order it now and get a download of the entire album instantly.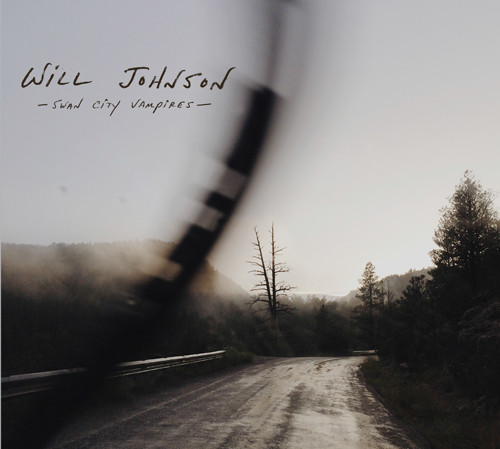 1. Paradise, Basically
2. You vs. Off The Cuff
3. Nameless, But A Lover
4. Call, Call, Call
5. (Made Us Feel Like) Kings
6. Pulleys
7. It's a Pretty Fucked Skyline
8. Mulnomah
9. Thug Life Pt. 2
10. The Watchman
11. Chalked Lines/Waxed Sun
Engineered and Mixed by
Britton Beisenherz at Ramble Creek/Austin, TX
John Congleton at Elmwood Recording/Dallas, TX
Mastered by Matt Pence
"Swan City Vampires, the new solo album from former Centro-matic frontman Will Johnson finds him in peak form. At times as beautiful and melodious as he's ever been, at others with a primal immediacy beyond anything I've ever heard him do. Raw and urgent, this album is a thing of immense beauty that only gets better with each repeated listen. This could end up being my favorite album he's ever made." – Patterson Hood (Drive-By Truckers)
"Swan City Vampires is another fantastic release from Will Johnson. It's melancholy, hazy but hopeful. It's tuneful, complex, and beautiful. At times it seems to me like a fever dream, but with sudden stunning moments of clarity. I've been listening to it a lot in the early mornings, but I think it's also a dusk record, as it's shadows reveal new things each time. Scary like a vampire, pretty like a swan, buzzing like a city. Will again delights and surprises." – Craig Finn (The Hold Steady)
"Will Johnson is one of my favorite songwriters on Earth, and this album is as literate and addictive as any of his previous work. These songs are honest and specific while remaining open to multiple layers of interpretation. The melodies are beautiful and memorable, and Will's voice is a complex and delicate instrument. As a long-time fan, it makes me happy to know that Will is still challenging himself to make music that truly can be called art." – Jason Isbell
TOUR DATES
Will is gearing for a very busy fall with a ton of tour dates. Tickets for the first leg of the Living Room Tour on sale now.
8/27 : Denham Springs LA – Living Room Show
8/29 : New Orleans LA – Living Room Show
9/02 : Dallas TX – Living Room Show
9/03 : Fort Worth TX – Living Room Show
9/25 : Austin TX – Waterloo Records
9/26 : Denton TX – Oaktopia Fest
9/28 : Colorado Springs CO – Living Room Show
9/29 : Denver CO – Living Room Show
9/30 : Cheyenne WY – Living Room Show
10/1 : Fort Collins, CO – Living Room Show
10/3 : Boise ID – Living Room Show
10/4 : Seattle WA – Living Room Show
10/5 : Portland OR – TBA
10/6 : Eugene OR – Living Room Show
10/7 : Reno NV – Living Room Show
10/8 : Sacramento CA – Living Room Show
10/9 : San Francisco CA – Living Room Show
10/10 : Petaluma CA – Living Room Show
10/11 : Los Angeles CA – Living Room Show
10/13 : Las Vegas NV – Living Room Show
10/15 : Phoenix AZ – Living Room Show
10/16 : Albuquerque NM – Living Room Show
10/18 : Austin TX – Living Room Show
# # #